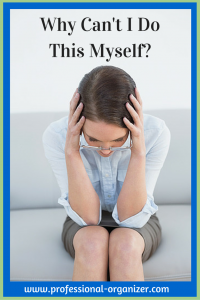 It's a sentence I hear from many clients.
Why can't I do this myself?
What's behind this question?
It takes a new way of thinking to accept help at times.
Recently I heard of a perspective shift from a client.  As a single entrepreneur woman, she had a lot on her plate. She also had her cats to think of.  In thinking about how she was trying to do it all herself, she reflected on some tv shows from her youth. There was the Courtship of Eddie's Father with Mrs. Livingston, there was the show Hazel and there was the Brady Bunch with Alice. It was an aha moment as she realized she needed help!
It takes awareness to reach this new perspective and reach out for help.
It takes courage to accept help in your personal space. It's about a trusting relationship.  It's about knowing that there is no judgement in working with someone.
It's acknowledging your need for help is not a lack of your skill or lack of determination.  The most commitment need help too.
It's acknowledging that your brain works in a certain way. It's knowing that having someone else in the space helps your brain work best, helps you process in a way that works best for you and helps get the job you started finished.
It's in finding who is a good fit for your team.
There are lots of potential members of your team. It's  your counselor, Stephen Minister, professional organizer and coach who create all the different successes.  Finding the fit of many different people who can help you is what's important.
There are many answers to why can't I do this myself.  There may be more than a single reason. Find what works for you and you can move forward with whatever task you are doing.
More ideas and resources for your team here.