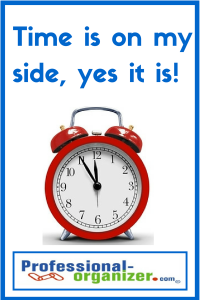 Is there always just one more email or phone call to answer?
Does getting ready for the day takes longer than you think?
Do you find that you are typically running late?
Give yourself a gift of time!  Time is on my side, yes it is!
Arrive 15 minutes early mindfully.
Don't start anything on the computer, email or Facebook.
Have a clock in your bedroom, bathroom, and exit to your car.
Bring an armload of magazines to read while waiting.
Catch up on social media while you wait.
Grab a notepad or your smart phone and make a list for the day.
It is a gift only you can give yourself! And it will be most cherished!
One Response to "Time is on my side, yes it is!"