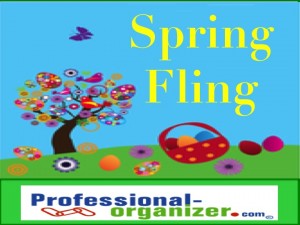 It's time to get moving on decluttering our homes and offices.  It's been a busy winter and now it's time to focus on spring renewal.   Doing the Spring Fling helps us by eliminating the unnecessary, deciding on what is most important and keeping only the best.
Get motivated and focused first by having the end in sight.  Find ideas on www.houzz.com.  Tap into your inner organizer by defining 3 key words that will describe your newly organized spot, such as nurturing, simplified, inviting, or friendly.  Know what you want your organized space to be and to feel like.
Gather your team to get going. At home your team can be a supportive friend, your children or your spouse.  At the office it can be your colleagues, assistant or boss.  It is more fun and energizing to work with partners.  Set specific dates and deadlines for your organizing.  Break the work into smaller units to work effectively and get this job done.
Find a cause that you are passionate about to donate your items. Make donating simple and get your donations out the door the same day you decided to part with them.
Not sure what to "fling?"
Would you wear it today if it fit?
You purchased a new one and it's time to "fling" the old one.
Your kids have outgrown it or don't play with it.
Extra home decor, linens, or framed prints
It's still good and it's time to let others use it.
Create functional, accessible and beautiful space using bins or boxes in colors you love, adding uniform shelving, and embracing simplicity.  My new favorite closet items are slimline hangers. Choose one color for your closet and donate your used hangers or return wire hangers to your dry cleaner.  This simple addition makes for a beautiful closet.
Add in great routines to keep your space maintained. Have a nightly family pick up or take just 5 minutes each evening to get items back to where they are stored.  Plan a general reorganization each spring and fall, just to keep your home and office efficient, orderly and attractive.
2 Responses to "Doing the Spring Fling"