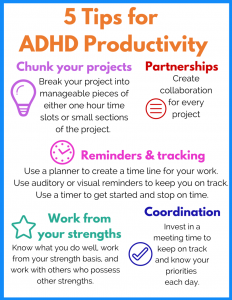 Productivity is never an accident. It is always the result of a commitment to excellence, intelligent planning, and focused effort. ~~Paul J. Meyer
While planning or focus may not be the greatest strength for ADHD, commitment is often the key to outstanding productivity.  Adding in these 5 tips for ADHD productivity will boost your success.
Chunk your projects
Long term projects can get lost in the shuffle.   Break your project into manageable pieces either one hour in time slots or smaller sections of the project.  Smaller sections can be just one step forward in a project or several small steps that coordinate together.
Partnerships
Collaboration is the key to success. Choose a partner who has different skills and abilities to bring about productivity.
Reminders and tracking
Use a planner that works with your strengths.  You can add in reminders that are both visual (dry erase board or large sticky notes) and auditory (alarms or timer) to help you stay on track.
Work from  your strengths
Your strengths could be creativity, tech savviness, working well with others, and any number of skills and abilities.  Create a plan that includes this.
Coordination
The most effective plans and projects include meetings for accountability and a time line.  With deadlines,  you will complete tasks and projects timely.  Meeting keep you focused about the desired outcome.  Coordination brings this all into being.
Check out more tips on ADHD here on Ellen's Blog ADD!